Du hast coole Enduro videos gesehen. Du bist ein abenteuerlicher Typ, und willst es auch lernen. Du hast Glück, hier kannst du's. In der bestmöglichen Umgebung für diesen Sport: Rumänien.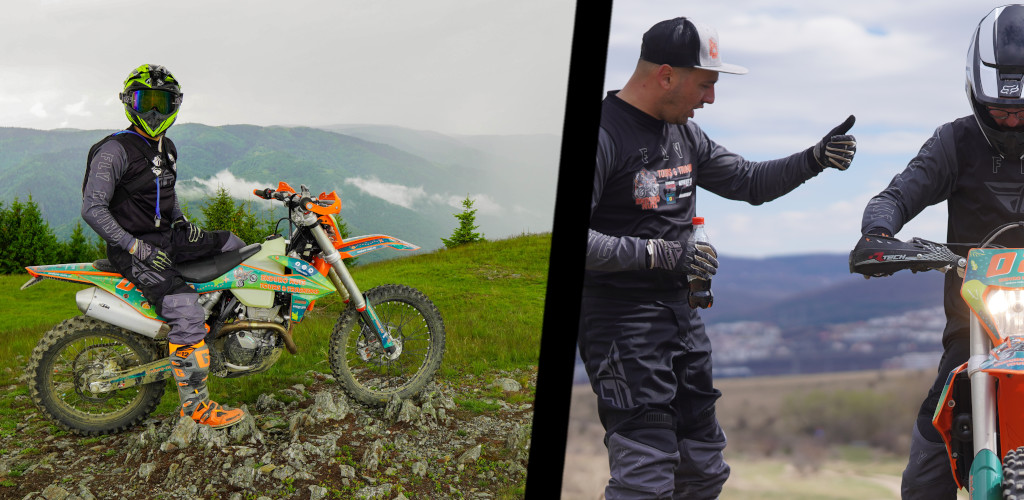 Von Null zu Anfänger
Lerne off-road fahren ohne vormalige Motorradkenntnisse. Ohne Führerschein. In einer Woche.
Tag 1: learn the basics, acceleration and braking, gear shifting, body position.
Tag 2: after having mastered the basics, go on an easy tour around the local hills.
Tage 3-5: gain confidence, go further, learn more techniques and practice them.
Nach Tag 5: ready to join our enduro adventure tours, and our learn & ride tours.
Seh's in Aktion
Hier ein Video von so einem 2-Tages lerne Enduro fahren Training:
Motorräder und Schutzausrüstung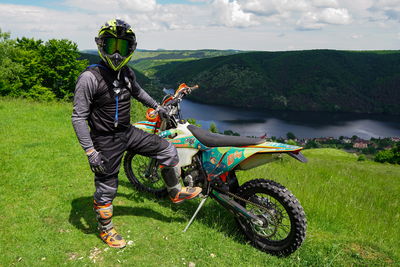 Du erhältst eines unserer 6 KTM EXC-F 350 hard enduro Motorräder, in tadelloser Verfassung, mit Sitzhöhe für deine Körpergrösse.
Du bekommst ebenfalls die gesamte Schutzausrüstung für deine Körpergrösse. Vor der Enduro Reise fragen wir dich nach deinen Massen.
Anforderungen
Nochmals: du brauchst explizit keinen Motorrad-Führerschein um mit uns Enduro fahren zu lernen. Weil all dies fernab vom Verkehr und von Strassen geschieht. Wenn du die Lizenz hast, aber nie fährst, oder nicht Gänge schalten kannst, dann ist dieses Training ebenfalls für dich.
Was du explizit brauchst ist der Wunsch, das Motorrad zu beherrschen. Geistig und körperlich fit sein hilft.
Auch: solltest du lieber stand-up-paddeln als kite surfen, so ist Enduro fahren möglicherweise etwas zu wild für dich.
Preise
Guide, Bike, Hotel
Guide, Bike, Hotel
5 Tage,
4 Nächte,
3 Tage fahren
950 EUR
740 EUR
6 Tage,
5 Nächte,
4 Tage fahren
1150 EUR
870 EUR
8 Tage,
7 Nächte,
5 Tage fahren
1400 EUR
1050 EUR
Inklusiv
Tourenführer,

Motorrad,
Benzin,
Motorrad Unterhalt,
Motorrad Reinigung,

Ausrüstung,

4-Sterne Hotel,
Frühstück
Tourenführer,

Motorrad,
Benzin,
Motorrad Unterhalt,
Motorrad Reinigung,

Ausrüstung,

4-Sterne Hotel,
Frühstück
Optionen
Einzelzimmer: +40 EUR pro Nacht.


Einzelzimmer: +40 EUR pro Nacht.
Gruppengrösse
4-6 Gäste
4-6 Gäste
Exklusiv: 1) Mittagessen, Nachtessen, Getränke: sehr erschwinglich, du bist in Rumänien 😉 2) Persönliche Versicherung
Das 8-Tages-Training enthält einen Ruhetag, weil Fahrer diesen brauchen.
Falls die obigen Pakete für dich nicht passen, können wir dir auch einen persönlichen Tourenplan erstellen, kontaktiere uns.
Buche deinen Lehrgang

💡 Geburtstagsgeschenk-Idee 😃
Was andere Fahrer sagen
Alle Reviews mit geposteten Fotos der Gäste gibt's auf Google maps, hier eine Vorschau:
Florin Maguran
2022-11-06
Cannot recommend them enough! Definitely something not to be missed if you are a riding enthusiast. Whatever your skill is, Paul will make sure you will get a blast out of the riding. He has excellent trails and most definitely if you want the full experience (more than one day) ask for a tailored package. A must do if you're in Cluj!
Cristian Serban
2022-10-15
Excellent experience, Paul knows how to take care of both beginners and experienced, knows the best routes and we felt safe. The only limit is your brain! Totally recommend for anyone.
Shahin Hassanvan
2022-08-26
Paul is such an amazing guy and guide! I had a blast driving in the mountains with him. Easy to communicate with prior to the tour, a very good teacher and it really shows that he loves what he does. He will adjust the difficulty for your circuit depending on how proficient you are on an enduro bike so don't hesitate if you're a beginner, intermediate or expert driver. Highly recommend! Thanks again Paul! I'll come back one day hopefully.
This was the fourth time I booked with Enduro Nuts and they never cease to impress me! I live in London so I try and go out on rides with them whenever I come visit family in Romania. The ride was amazing and the bikes were top notch and well maintained as always. We booked a full day trip next to Cluj and we had a blast. Safety was always the main priority and we could always choose whether we wanted to go across a feature or not. The gear was clean, new and it perfectly fitted my body. (They ask you about your sizes during the booking process if you don't have your own gear). The staff was super friendly and gave me very helpful advice on my technique. The ride improved throughout the day because of the great coaching I received.
emanuel moldovan
2022-08-19
Dumitru Bereghici
2022-08-19
This was my first time riding a bike and surely won't be the last. The track and scenery was stunning. Big thanks to Paul and Alin for this amazing experience!
Alexandru Bereghici
2022-08-18
Amazing experience!
Thank you Paul for that great experience! I was having two days of Enduro training and tour as an "experienced" street bike rider without any off-road knowledge. I was getting great tips and exercises to challenge my self and improve my ride. And all of this was done on the ride, so I enjoyed the landscape and saw my improvement. Due to the personalised tour I felt safe at all time. Thanks again!
Un super traseu cu un super om! Recomand!
🡺 Weiter zu den Persönlichen Enduro Trainings in Cluj-Napoca.
🡸 Zurück zur Übersicht Enduro Touren in Transsilvanien.