Eine warme Dusche, eine gute Mahlzeit, und guten Schlaf ist was Fahrer nach einem harten Tag Abenteuer wünschen. Um fit zu sein für die Herausforderungen des nächsten Tages.
Unsere Rundreisen sind organisiert mit Unterkunft an verschiedenen Orten, du musst dich um nichts kümmern.
Für die anderen Fahrangebote, wie Tagestouren oder Hardenduro, kontaktiere uns bevor du deine Übernachtungen buchst. Zuerst entscheiden wir uns für die Strecken.
Für Cluj-Napoca (Klausenburg) kannst du deinen Aufenthalt selber buchen nach deinem Geschmack und Budget. Das ist einfach, es gibt viele Optionen. Benutze die üblichen Buchungsseiten.
Hier sind einige Empfehlungen.
Faget / Cluj (Stadt)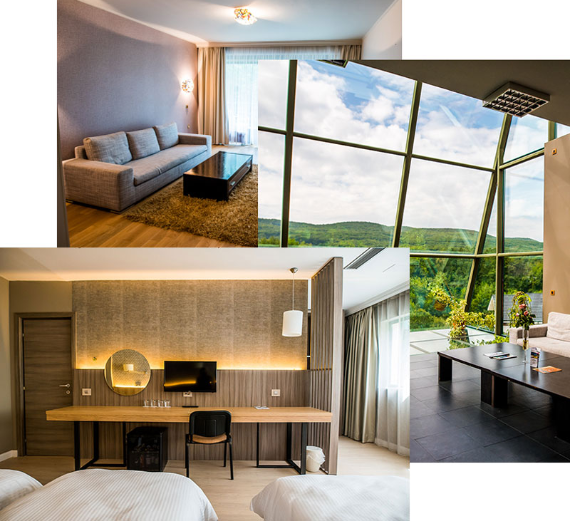 **** 4-Sterne Hotel "Sunny Hill", Faget, Cluj
modern und preiswert
zahlreiche Räume
Restaurant
ganzjährig geöffnet
kostenlos Wi-Fi (haben alle, ist Standard)
Baisoara / Cluj (Berge)

Pension "Andreea"
preiswert
15 Zimmer
Restaurant
Innen-Swimmingpool
ganzjährig geöffnet
Kostenlos Wi-Fi
Erwartungshaltung
Die Unterkünfte in Rumänien sind gut und sauber, sogar exzellent in Cluj. Erwarte bitte kein 5-Sterne Bergresort in entlegenen Orten, wie es diese in Österreich gibt. Die Gäste kommen zum Enduro fahren hierher und nicht für Wellness. Einige abgelegene Gaststätten sind rudimentär und einfach, was sich dann auch im Preis niederschlägt.
Unsere Gäste schätzen das Essen und die Getränke sehr, welche auch sehr erschwinglich sind.
Überbevölkerung während Musikfestivals
During the week of the extremely popular summer music festival Untold, all hotels, hostels, Airbnbs etc in Cluj-Napoca are booked months in advance, and last minute flights and beds are rare to find and if then at horrendous prices. Book early if you come during this week. The music festival Electric Castle is less of a problem because it takes place outside of town.
Camping, Zelten
We've been asked about doing round-trips with tents instead of staying at hotels and pensions. Here is our answer.
It sounds romantic, sleeping on top of the mountain, in the nature. However there are a few downsides.
The luggage. A hard enduro motorcycle is a sports toy, not an all-rounder. There is no fixture for luggage. You'd have to carry all your material, clothes, food and beverages on your back. During the whole trip. Nights can get cold even in the summer, so you'd just need too much luggage. It's not really feasible.
On our journeys we have the best views, during the day, with light. We don't need the same view anymore at night. A warm shower and bed, and a good meal, no worries, are what riders appreciate. We do like to grill our lunch on open fire on round-trip journeys, so we got that covered.
Hotels and pensions are very affordable in Romania, so that's not an issue. The motorcycle is the elephant in the room in terms of cost.
9 liters of gasoline in the tank is enough for one day, then we need to refill. There's no gas station on the mountain ridge.
And finally there's the safety aspect. Bears, deer and wild boar live in our forests, and there are occasional , incidents with humans. The locals and the police strongly discourage tenting, not alone, nor in a group, and they know why.
So there we have it, the best of both worlds. The adventure in nature during the day, and the comfort of civilization during the night.