Learn and Ride is a hybrid between an enduro tour and a training session. It's great for beginner off-road riders, especially for street riders. Street riding is to hard enduro what is bread to pizza. A common base, yet completely different.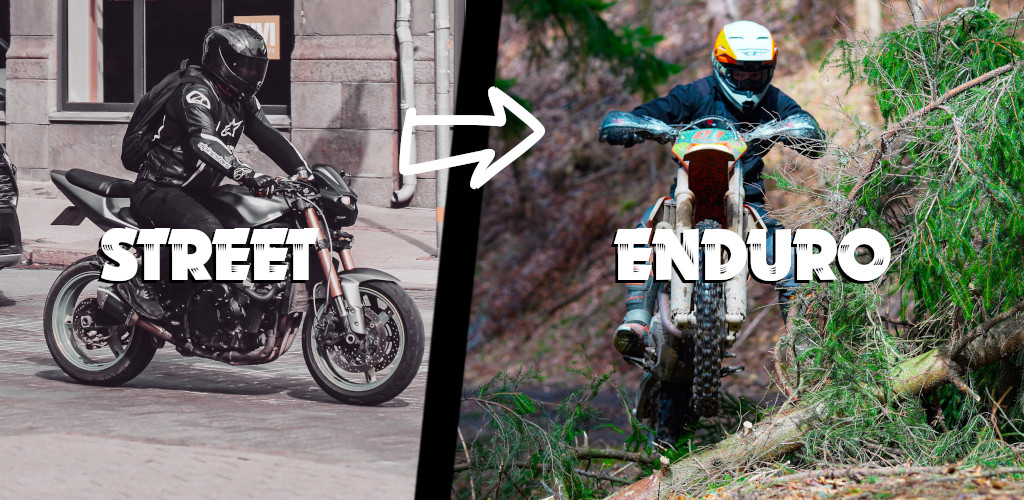 Tour description
The group goes on a tour, and stops in places to learn and exercise a technique. Then continues the tour to the next stop. You get to learn theory, see it applied, then try it yourself, while being watched and corrected by the instructor. And you're on a tour. Out in the nature, with friends. Awesome.
Tour specs
A tour day is 4-6 hours of off-road riding, covering around 40 Kilometers of distance, while also exercising in specific places.
This tour type is especially well suited for people who come from road driving and want to learn enduro riding. Everything is different off-road, there is a lot to learn, and learning it the right way from the start is the smart choice.
The most obvious differences to road motorcycling:
riding in standing position
laying the enduro bike down is okay
use your back brake
You'll learn and practice:
steep downhills: turn engine off, use engine break (4-stroke)
steep uphills, getting stuck, and what to do
traction vs. wheel spinning
turning the bike in place
passing over obstacles, tree logs
learn to let go: don't hold on to the throttle, don't flip the bike
… and much more.
Motorcycles and protective gear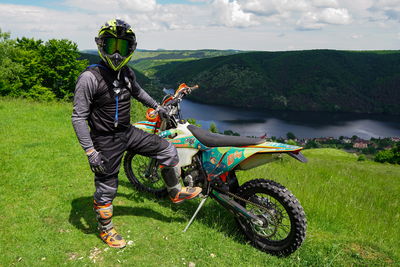 You get one of our six KTM EXC-F 350 hard enduro bikes, in perfect condition, with the seat for your body height.
You also get the whole set of safety equipment for your body size. Before the enduro trip we ask you for your measurements.
Requirements
You need prior motorcycle experience and be fluent with gear shifting, else the start from zero is the right choice for you.
You explicitly do not need off-road experience.
This offering is great for street riders who want to learn enduro riding.
What other riders say
You can see our reviews with pictures posted by our clients on Google maps, we have selected a few here:
Florin Maguran
2022-11-06
Cannot recommend them enough! Definitely something not to be missed if you are a riding enthusiast. Whatever your skill is, Paul will make sure you will get a blast out of the riding. He has excellent trails and most definitely if you want the full experience (more than one day) ask for a tailored package. A must do if you're in Cluj!
Cristian Serban
2022-10-15
Excellent experience, Paul knows how to take care of both beginners and experienced, knows the best routes and we felt safe. The only limit is your brain! Totally recommend for anyone.
Shahin Hassanvan
2022-08-26
Paul is such an amazing guy and guide! I had a blast driving in the mountains with him. Easy to communicate with prior to the tour, a very good teacher and it really shows that he loves what he does. He will adjust the difficulty for your circuit depending on how proficient you are on an enduro bike so don't hesitate if you're a beginner, intermediate or expert driver. Highly recommend! Thanks again Paul! I'll come back one day hopefully.
This was the fourth time I booked with Enduro Nuts and they never cease to impress me! I live in London so I try and go out on rides with them whenever I come visit family in Romania. The ride was amazing and the bikes were top notch and well maintained as always. We booked a full day trip next to Cluj and we had a blast. Safety was always the main priority and we could always choose whether we wanted to go across a feature or not. The gear was clean, new and it perfectly fitted my body. (They ask you about your sizes during the booking process if you don't have your own gear). The staff was super friendly and gave me very helpful advice on my technique. The ride improved throughout the day because of the great coaching I received.
emanuel moldovan
2022-08-19
Dumitru Bereghici
2022-08-19
This was my first time riding a bike and surely won't be the last. The track and scenery was stunning. Big thanks to Paul and Alin for this amazing experience!
Alexandru Bereghici
2022-08-18
Amazing experience!
Thank you Paul for that great experience! I was having two days of Enduro training and tour as an "experienced" street bike rider without any off-road knowledge. I was getting great tips and exercises to challenge my self and improve my ride. And all of this was done on the ride, so I enjoyed the landscape and saw my improvement. Due to the personalised tour I felt safe at all time. Thanks again!
Un super traseu cu un super om! Recomand!
Prices
guide, bike, hotel
guide, bike, hotel
5 days,
4 nights,
3 days riding
950 EUR
740 EUR
6 days,
5 nights,
4 days riding
1150 EUR
870 EUR
8 days,
7 nights,
5 days riding
1400 EUR
1050 EUR
Included
tour guide,

motorcycle,
fuel,
bike maintenance,
bike cleaning,

equipment,

4-star hotel,
breakfast

tour guide,

motorcycle,
fuel,
bike maintenance,
bike cleaning,

equipment,

4-star hotel,
breakfast
Options
Single room: +40 EUR per night.


Single room: +40 EUR per night.
Group size
4-6 guests
4-6 guests
Excluded: 1) lunch, dinner, drinks: very affordable, you're in Romania 😉 2) Personal insurance
The 8-days tour includes 1 day of resting, because riders need it.
If the above does not suit you, we can create a custom tour plan for you, contact us.
🡺 Continue to our Enduro Round Trips in Romania
🡸 Back to overview: Enduro Tours in Transylvania