Du nimmst an einem Hardenduro Rennen in Rumänien teil. Wir stellen das Motorrad bereit, stellen es für dich ein, und unterstützen dich vor und nach jedem Renntag.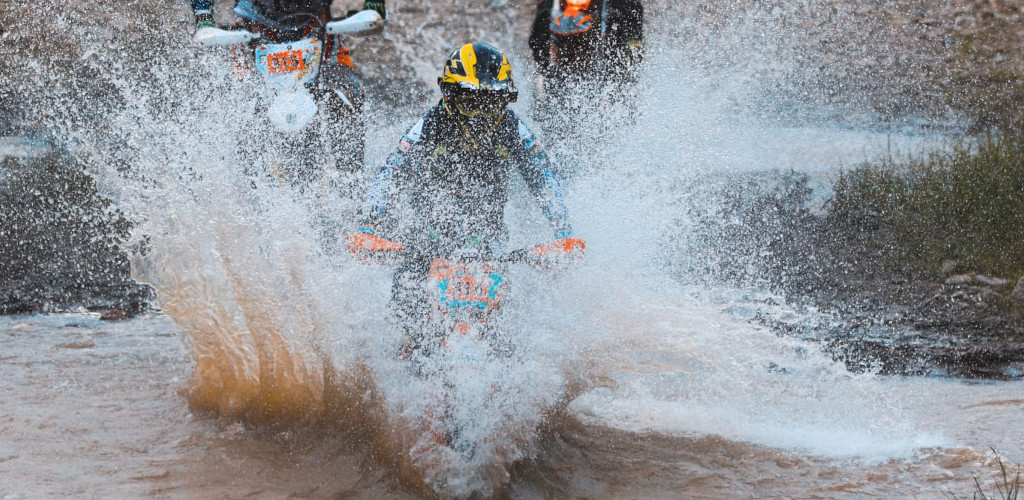 Rennkalender
Siehe unseren Rennkalender (englisch) für Hardenduro Rennen in Rumänien. Hier sind ein paar Optionen:
Motorräder und Schutzausrüstung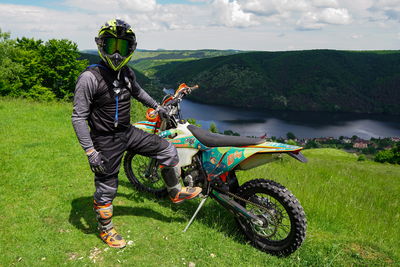 Du erhältst eines unserer 6 KTM EXC-F 350 hard enduro Motorräder, oder alternativ einen 2-Takter, in tadelloser Verfassung, mit Sitzhöhe für deine Körpergrösse.
Du bekommst ebenfalls die gesamte Schutzausrüstung für deine Körpergrösse. Vor der Enduro Reise fragen wir dich nach deinen Massen.
Anforderungen
Being fit for the race. Either having participated in races before, or having gone through a race track training, or having been on a tour with us and received the OK from Paul.
Membership in your country's motorsport association and permission from them to race in Romania. Alternatively acquire the permission in Romania. Talk to Paul if not sure.
Was andere Fahrer sagen
Alle Reviews mit geposteten Fotos der Gäste gibt's auf Google maps, hier eine Vorschau:
War echt SUPER, Dank an Paul & Hugo, hat Mega Spaß gemacht, Rumänien/Transilvanien kann man echt empfehlen, Spaß ist garantiert- egal bei welchem Wetter 👍🏻👍🏻👍🏻 Super Unterkünfte
Henning Schmidt
2023-06-05
One of the coolest experiences I ever had in my life. The Guides have shown perfect knowledge of the terrain, teaching people tips and tricks of how to become a better rider and are very fun and kind people. Looking forward to my next time riding bikes with Paul and Hugo. Excellent Gear, excellent guides - the perfect adventure.
Enduro Nuts, what to say. Amazing riding, great company… food and beers in the evening in the mountains. It seems needless though to say that this is totally awesome! Peace, love & enduro!!
Ottima guida e ottimo tour! Bravo Paul! Da rifare! Anche Hugo, la seconda guida era veramente sul pezzo- grazie a loro amo ancora di piu la moto da enduro! Multsumesc e alla prossima!
best adventure of my life so far, 10/10 recommend!
Florin Maguran
2022-11-06
Cannot recommend them enough! Definitely something not to be missed if you are a riding enthusiast. Whatever your skill is, Paul will make sure you will get a blast out of the riding. He has excellent trails and most definitely if you want the full experience (more than one day) ask for a tailored package. A must do if you're in Cluj!
Cristian Serban
2022-10-15
Excellent experience, Paul knows how to take care of both beginners and experienced, knows the best routes and we felt safe. The only limit is your brain! Totally recommend for anyone.
Shahin Hassanvan
2022-08-26
Paul is such an amazing guy and guide! I had a blast driving in the mountains with him. Easy to communicate with prior to the tour, a very good teacher and it really shows that he loves what he does. He will adjust the difficulty for your circuit depending on how proficient you are on an enduro bike so don't hesitate if you're a beginner, intermediate or expert driver. Highly recommend! Thanks again Paul! I'll come back one day hopefully.
This was the fourth time I booked with Enduro Nuts and they never cease to impress me! I live in London so I try and go out on rides with them whenever I come visit family in Romania. The ride was amazing and the bikes were top notch and well maintained as always. We booked a full day trip next to Cluj and we had a blast. Safety was always the main priority and we could always choose whether we wanted to go across a feature or not. The gear was clean, new and it perfectly fitted my body. (They ask you about your sizes during the booking process if you don't have your own gear). The staff was super friendly and gave me very helpful advice on my technique. The ride improved throughout the day because of the great coaching I received.
Preise
Heniu (3 Tage Rennen): EUR 1200.-
(Startgebühr 2022 war EUR 90.-)
Enduro Panorama (4 Tage Rennen): EUR 1500.-
(Startgebühr 2023 ist EUR 500.-)
Piatra Craiului (3 Tage Rennen): EUR 1200.-
(Startgebühr 2022 war EUR 180.-)
Ditrocks (3 Tage Rennen): EUR 1200.-
(Startgebühr 2022 war EUR 150.-)
Inklusive: Motorrad, persönlichem Bike Setup, Bike Unterhalt, neue Hardenduro Reifen, persönliche Schutzausrüstung, Benzin, Unterkunft mit Frühstück für 4/5 Nächte. Transport von Cluj-Napoca zum Rennort und zurück.
Exklusive: Startgebühr, Motorsport-Club Mitgliedschaft (Lizenz), persönlicher Versicherung, Schäden am Motorrad, die den Austausch von Teilen erfordern (Kratzer und kleinere Beulen werden nicht berücksichtigt), Verpflegung.
Reserviere deinen Platz für 2023
Kontaktiere uns um dein Motorrad und den Startplatz zu reservieren.
🡺 Weiter zu den Firmen Team Building Events in Klausenburg
🡸 Zurück zu den Enduro Motorrad Touren in Rumänien