Hard Enduro races are a real challenge. Be well prepared if you go and participate as a hobby rider. Know exactly what awaits you. Off-road tracks always look easier on YouTube filmed on a GoPro than they are in reality. Testing your abilities in a training lets you know whether you're ready, and gives you the confidence you need. Our enduro motorcycle guides are regular participants in these races in Romania, have won numerous medals, and are the perfect tutors for you.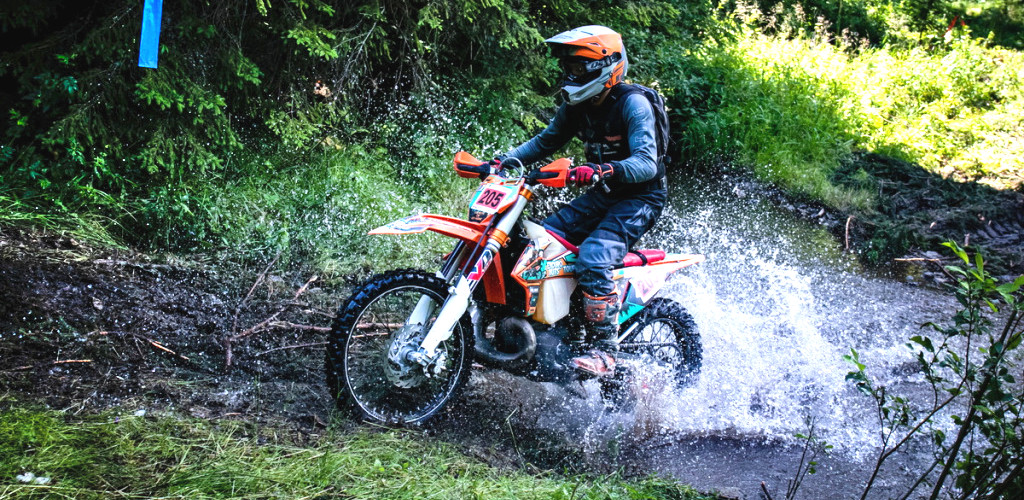 Real race track, or matching terrain.
Local tutors who know the tracks and participate in hard enduro races.
At your pace, for your level.
Learning and improving techniques, and getting lots of background info and tips.
This is a unique opportunity. Before going on an official race track we acquire the permission from the race organization.
What you'll train
You'll exercise what you want to learn, according to your level. If you've never been to a race, then topics to cover are:
properly passing other riders, and letting other riders pass you
equipment and gear you need
navigating the race track (spotting color bands, using GPS), and what to do if you lost your track.
conserving energy. it's all about conserving energy.
bike preparation before race, regulations
find out which race category is the right one for you
exercise the difficult parts
Which race category is for you?
Hard enduro races are for professionals, aspiring professionals, amateurs and hobby riders. They usually share the same base track, with deviating paths in between. Races often come with the categories "profi", "expert" and "hobby" in the Romanian hard enduro championship. At Romaniacs they are called gold for profi, silver for expert, bronze for hobby, with the additional categories iron and atom. Profi is for professional riders, like Graham Jarvis and Manual Lettenbichler. Expert is for the next generation of pro riders, and skilled enthusiasts, those who spend every weekend on the bike, and are physically in shape. Hobby is for enthusiasts and seasoned hobby riders, people who spend 20+ days each season on the hard enduro bike.
Most hobby riders don't compete to win – they compete to finish, to make it in time to the finish line. By far not everyone is able to arrive. Some try to be faster than their buddy. Finishing, without injury, and having a lot of fun, is our recommended target for hobby riders. A result a hobby rider can be proud of.
Some races are easier to finish, for example Hard Enduro Heniu, others are tougher, for example Romaniacs. After seeing your enduro riding level we can advise you which race to tackle first, and in which category.
Motorräder und Schutzausrüstung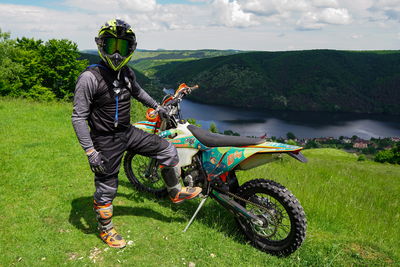 Du erhältst eines unserer 6 KTM EXC-F 350 hard enduro Motorräder, oder alternativ einen 2-Takter, in tadelloser Verfassung, mit Sitzhöhe für deine Körpergrösse.
Du bekommst ebenfalls die gesamte Schutzausrüstung für deine Körpergrösse. Vor der Enduro Reise fragen wir dich nach deinen Massen.
Anforderungen
Prior enduro or hardenduro riding experience. Hard enduro race videos on YouTube always look much easier filmed on the rider's GoPro than they are in real. The camera flies over obstacles and loose rocks, and the path looks flat even in places where it's so steep that one can barely stand.
Was andere Rennfahrer sagen
Alle Reviews mit geposteten Fotos der Gäste gibt's auf Google maps, hier eine Vorschau:
War echt SUPER, Dank an Paul & Hugo, hat Mega Spaß gemacht, Rumänien/Transilvanien kann man echt empfehlen, Spaß ist garantiert- egal bei welchem Wetter 👍🏻👍🏻👍🏻 Super Unterkünfte
Henning Schmidt
2023-06-05
One of the coolest experiences I ever had in my life. The Guides have shown perfect knowledge of the terrain, teaching people tips and tricks of how to become a better rider and are very fun and kind people. Looking forward to my next time riding bikes with Paul and Hugo. Excellent Gear, excellent guides - the perfect adventure.
Enduro Nuts, what to say. Amazing riding, great company… food and beers in the evening in the mountains. It seems needless though to say that this is totally awesome! Peace, love & enduro!!
Ottima guida e ottimo tour! Bravo Paul! Da rifare! Anche Hugo, la seconda guida era veramente sul pezzo- grazie a loro amo ancora di piu la moto da enduro! Multsumesc e alla prossima!
best adventure of my life so far, 10/10 recommend!
Florin Maguran
2022-11-06
Cannot recommend them enough! Definitely something not to be missed if you are a riding enthusiast. Whatever your skill is, Paul will make sure you will get a blast out of the riding. He has excellent trails and most definitely if you want the full experience (more than one day) ask for a tailored package. A must do if you're in Cluj!
Cristian Serban
2022-10-15
Excellent experience, Paul knows how to take care of both beginners and experienced, knows the best routes and we felt safe. The only limit is your brain! Totally recommend for anyone.
Shahin Hassanvan
2022-08-26
Paul is such an amazing guy and guide! I had a blast driving in the mountains with him. Easy to communicate with prior to the tour, a very good teacher and it really shows that he loves what he does. He will adjust the difficulty for your circuit depending on how proficient you are on an enduro bike so don't hesitate if you're a beginner, intermediate or expert driver. Highly recommend! Thanks again Paul! I'll come back one day hopefully.
This was the fourth time I booked with Enduro Nuts and they never cease to impress me! I live in London so I try and go out on rides with them whenever I come visit family in Romania. The ride was amazing and the bikes were top notch and well maintained as always. We booked a full day trip next to Cluj and we had a blast. Safety was always the main priority and we could always choose whether we wanted to go across a feature or not. The gear was clean, new and it perfectly fitted my body. (They ask you about your sizes during the booking process if you don't have your own gear). The staff was super friendly and gave me very helpful advice on my technique. The ride improved throughout the day because of the great coaching I received.
Preise
Aktualisiert für die Saison 2023.
guide, bike, hotel
guide, bike, hotel
2 Tage,
1 Nacht,
2 Tage Training
750 EUR
550 EUR
3 Tage,
2 Nächte,
3 Tage Training
1100 EUR
800 EUR
Inklusiv
Tourenführer,

Motorrad,
Benzin,
Motorrad Unterhalt,

Ausrüstung,

Hotel,
Frühstück
Tourenführer,

Motorrad,
Benzin,
Motorrad Unterhalt,

Ausrüstung,

Hotel,
Frühstück
Optionen
Einzelzimmer: +40 EUR pro Nacht.


Einzelzimmer: +40 EUR pro Nacht.
Gruppengrösse
2-6 Gäste
2-6 Gäste
Exklusiv: 1) Mittagessen, Nachtessen, Getränke: sehr erschwinglich, du bist in Rumänien 😉 2) Persönliche Versicherung 3) Schäden am Motorrad, die den Austausch von Teilen erfordern (Kratzer und kleinere Beulen werden nicht berücksichtigt)
Buche dein Hardenduro Renntraining
Kontaktiere uns für verfügbare Daten und Plätze für die Saison 2023.
🡺 Weiter zur Seite Hardenduro Rennteilnahme in Rumänien
🡸 Zurück zur Enduro Tour in Rumänien Übersichtsseite