There are sports with formal education programs and certification, such as scuba diving and judo. You can't just go and buy the equipment, and try it on your own. Regarding hard enduro, that's exactly what everyone does. Some riders have the motorcycle driving license. But street riding is to hard enduro what is bread to pizza. A common base, yet completely different. This is your chance for a training with an experienced tutor.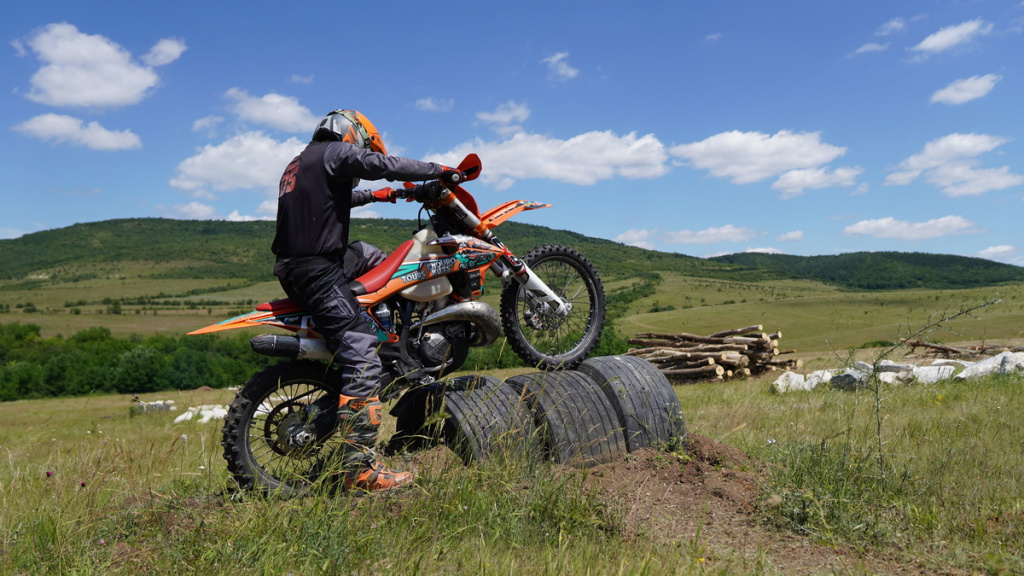 Improve your technique to get to the next level.
Or even start from zero, without any prior motorcycle knowledge.
Unlearning is hard. Learn techniques the right way from the start.
On a dedicated field with an obstacle parcour, or on trails
From Zero to Hero
Learn off-road riding without prior motorcycle knowledge.
2-day introductory training.
Day 1: learn the basics, acceleration and breaking, gear shifting, body position.
Day 2: after having mastered the basics, go on an easy tour around the local hills.
Near Cluj-Napoca.
Cost
EUR 380.- per person (2-day training).
Includes bike, protective gear, gasoline.
Excludes insurance, bike damage (happens rarely), food and drinks.
See our detailed price list.
See it in action
Here's a video from such a 2-day training:
Improve your skills
Personal training on the track or parcour.
Cost
EUR 220.- per day per person.
Includes bike, protective gear, gasoline.
Excludes insurance, bike damage (happens rarely), food and drinks.
Impressions
What other riders say
See all our reviews with guest-posted photos on Google maps, here is a random selection:
Shahin Hassanvan
2022-08-26
Paul is such an amazing guy and guide! I had a blast driving in the mountains with him. Easy to communicate with prior to the tour, a very good teacher and it really shows that he loves what he does. He will adjust the difficulty for your circuit depending on how proficient you are on an enduro bike so don't hesitate if you're a beginner, intermediate or expert driver. Highly recommend! Thanks again Paul! I'll come back one day hopefully.
This was the fourth time I booked with Enduro Nuts and they never cease to impress me! I live in London so I try and go out on rides with them whenever I come visit family in Romania. The ride was amazing and the bikes were top notch and well maintained as always. We booked a full day trip next to Cluj and we had a blast. Safety was always the main priority and we could always choose whether we wanted to go across a feature or not. The gear was clean, new and it perfectly fitted my body. (They ask you about your sizes during the booking process if you don't have your own gear). The staff was super friendly and gave me very helpful advice on my technique. The ride improved throughout the day because of the great coaching I received.
emanuel moldovan
2022-08-19
Dumitru Bereghici
2022-08-19
This was my first time riding a bike and surely won't be the last. The track and scenery was stunning. Big thanks to Paul and Alin for this amazing experience!
Alexandru Bereghici
2022-08-18
Amazing experience!
Thank you Paul for that great experience! I was having two days of Enduro training and tour as an "experienced" street bike rider without any off-road knowledge. I was getting great tips and exercises to challenge my self and improve my ride. And all of this was done on the ride, so I enjoyed the landscape and saw my improvement. Due to the personalised tour I felt safe at all time. Thanks again!
Un super traseu cu un super om! Recomand!
Really nice experience. Paul is a Pro rider
Adrian Parasciuc
2022-07-03
Book your training
Contact us for available dates and places.
Birthday idea: gift this package to a friend or loved one 😉
Back to our Enduro Tours in Romania overview page.
Continue to our Enduro Race Track Training in Transylvania page.