Ride hard in the Transylvanian mountains. Push the bike, push your limits. Come prepared. Ride from Cluj-Napoca. Have fun, or torture yourself, or both.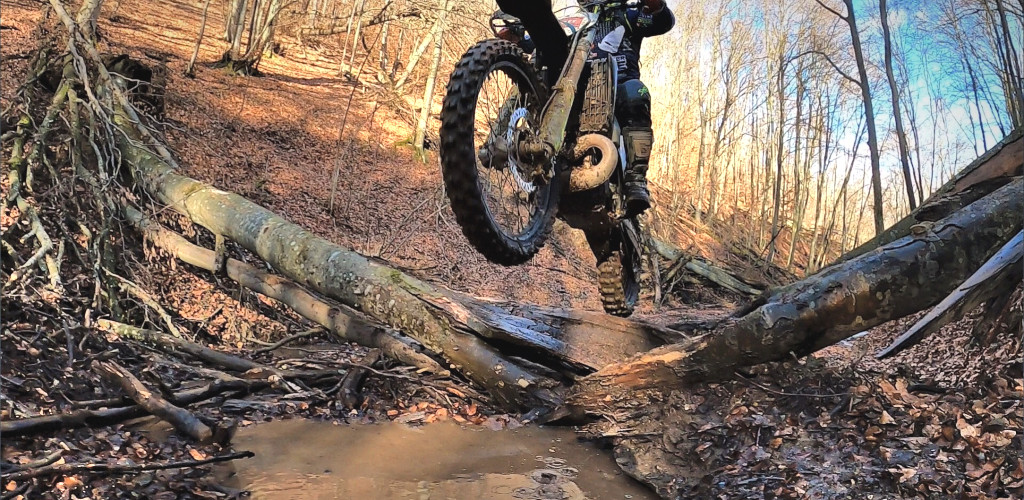 Tour specs
A tour day is 6-8 hours of off-road riding with a focus on hard enduro, with steep uphills and river creek visits, covering 60 to 120 Kilometers, depending on rider levels, tour difficulty, and riding speed.
Requirements
Hard Enduro riding isn't for everyone. A regular enduro adventure tour is too easy for you. You are a tough guy, and you know what you're getting into. Most likely you have done this before, else you need at least off-road experience. The tour route is chosen based on rider skills and preferences.
Motorcycles and protective gear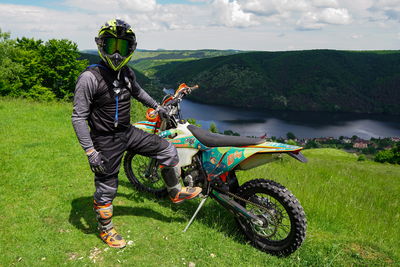 You get one of our six KTM EXC-F 350 hard enduro bikes, or alternatively a 2-stroke bike, in perfect condition, with the seat for your body height. Alternatively we have some 2-stroke beasts.
You also get the whole set of safety equipment for your body size. Before the enduro trip we ask you for your measurements.
What other riders say
You can see our reviews with pictures posted by our clients on Google maps, we have selected a few here:
War echt SUPER, Dank an Paul & Hugo, hat Mega Spaß gemacht, Rumänien/Transilvanien kann man echt empfehlen, Spaß ist garantiert- egal bei welchem Wetter 👍🏻👍🏻👍🏻 Super Unterkünfte
Henning Schmidt
2023-06-05
One of the coolest experiences I ever had in my life. The Guides have shown perfect knowledge of the terrain, teaching people tips and tricks of how to become a better rider and are very fun and kind people. Looking forward to my next time riding bikes with Paul and Hugo. Excellent Gear, excellent guides - the perfect adventure.
Enduro Nuts, what to say. Amazing riding, great company… food and beers in the evening in the mountains. It seems needless though to say that this is totally awesome! Peace, love & enduro!!
Ottima guida e ottimo tour! Bravo Paul! Da rifare! Anche Hugo, la seconda guida era veramente sul pezzo- grazie a loro amo ancora di piu la moto da enduro! Multsumesc e alla prossima!
best adventure of my life so far, 10/10 recommend!
Florin Maguran
2022-11-06
Cannot recommend them enough! Definitely something not to be missed if you are a riding enthusiast. Whatever your skill is, Paul will make sure you will get a blast out of the riding. He has excellent trails and most definitely if you want the full experience (more than one day) ask for a tailored package. A must do if you're in Cluj!
Cristian Serban
2022-10-15
Excellent experience, Paul knows how to take care of both beginners and experienced, knows the best routes and we felt safe. The only limit is your brain! Totally recommend for anyone.
Shahin Hassanvan
2022-08-26
Paul is such an amazing guy and guide! I had a blast driving in the mountains with him. Easy to communicate with prior to the tour, a very good teacher and it really shows that he loves what he does. He will adjust the difficulty for your circuit depending on how proficient you are on an enduro bike so don't hesitate if you're a beginner, intermediate or expert driver. Highly recommend! Thanks again Paul! I'll come back one day hopefully.
This was the fourth time I booked with Enduro Nuts and they never cease to impress me! I live in London so I try and go out on rides with them whenever I come visit family in Romania. The ride was amazing and the bikes were top notch and well maintained as always. We booked a full day trip next to Cluj and we had a blast. Safety was always the main priority and we could always choose whether we wanted to go across a feature or not. The gear was clean, new and it perfectly fitted my body. (They ask you about your sizes during the booking process if you don't have your own gear). The staff was super friendly and gave me very helpful advice on my technique. The ride improved throughout the day because of the great coaching I received.
Prices
guide, bike, hotel
guide, bike, hotel
5 days,
4 nights,
3 days riding
1050 EUR
750 EUR
6 days,
5 nights,
4 days riding
1300 EUR
1050 EUR
8 days,
7 nights,
5 days riding
1550 EUR
1150 EUR
Included
tour guide,

motorcycle,
fuel,
bike maintenance,
bike cleaning,

equipment,

4-star hotel,
breakfast

tour guide,

motorcycle,
fuel,
bike maintenance,
bike cleaning,

equipment,

4-star hotel,
breakfast
Options
Single room: +40 EUR per night.


Single room: +40 EUR per night.
Group size
4-6 guests
4-6 guests
Excluded: 1) lunch, dinner, drinks: very affordable, you're in Romania 😉 2) Personal insurance 3) damage caused to the motorcycle that requires the replacement of parts (scratches and minor bumps are not taken into account)
The 8-days tour includes 1 day of resting, because riders need it.
If the above does not suit you, we can create a custom tour plan for you, contact us.
🡺 Continue to our Learn & Ride page
🡸 Back to our Enduro Tours in Romania overview page