Ride hard in the Transylvanian mountains. Push the bike, push your limits. Come prepared. Ride from Cluj-Napoca. Have fun, or torture yourself, or both.
Cost
From EUR 235.- per day (group of 4 to 6 guests)
+ Includes the bike, gasoline, protective gear, transport.
– Excludes insurance (up to you), bike damage, food, accommodation.
See our detailed price list.
Requirements
Hard Enduro riding isn't for everyone. A regular enduro adventure tour is too easy for you. You are a very tough nut, and you know what you're getting into. You have done this before.
Motorcycles and protective gear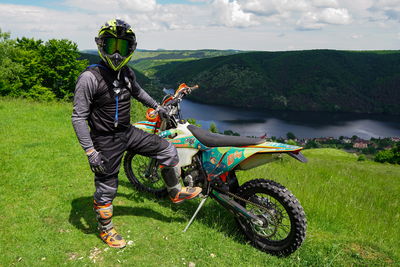 You get one of our six KTM EXC-F 350 hard enduro bikes, in perfect condition, with the seat for your body height. Alternatively we have some 2-stroke beasts.
You also get the whole set of safety equipment for your body size. Before the enduro trip we ask you for your measurements.
Impressions
What other riders say
See all our reviews with guest-posted photos on Google maps, here is a random selection:
Shahin Hassanvan
2022-08-26
Paul is such an amazing guy and guide! I had a blast driving in the mountains with him. Easy to communicate with prior to the tour, a very good teacher and it really shows that he loves what he does. He will adjust the difficulty for your circuit depending on how proficient you are on an enduro bike so don't hesitate if you're a beginner, intermediate or expert driver. Highly recommend! Thanks again Paul! I'll come back one day hopefully.
This was the fourth time I booked with Enduro Nuts and they never cease to impress me! I live in London so I try and go out on rides with them whenever I come visit family in Romania. The ride was amazing and the bikes were top notch and well maintained as always. We booked a full day trip next to Cluj and we had a blast. Safety was always the main priority and we could always choose whether we wanted to go across a feature or not. The gear was clean, new and it perfectly fitted my body. (They ask you about your sizes during the booking process if you don't have your own gear). The staff was super friendly and gave me very helpful advice on my technique. The ride improved throughout the day because of the great coaching I received.
emanuel moldovan
2022-08-19
Dumitru Bereghici
2022-08-19
This was my first time riding a bike and surely won't be the last. The track and scenery was stunning. Big thanks to Paul and Alin for this amazing experience!
Alexandru Bereghici
2022-08-18
Amazing experience!
Thank you Paul for that great experience! I was having two days of Enduro training and tour as an "experienced" street bike rider without any off-road knowledge. I was getting great tips and exercises to challenge my self and improve my ride. And all of this was done on the ride, so I enjoyed the landscape and saw my improvement. Due to the personalised tour I felt safe at all time. Thanks again!
Un super traseu cu un super om! Recomand!
Really nice experience. Paul is a Pro rider
Adrian Parasciuc
2022-07-03
Book your hard enduro riding
Contact us for available dates and places to ride hard enduro in 2023 in Romania.
Back to our Enduro Tours in Romania overview page.
Continue to our Enduro Training in Cluj-Napoca page.